The performing Arts often aim to express one's emotions and feelings in which artists use their voices, bodies or objects to convey artistic expression. Drama, music, dance and object manipulation, and other kinds of performances are present in all human cultures. Many performing arts are performed professionally. Performing arts has a well-placed significance in the civilization and tradition of Indian society.
Indian performing arts are well praised by people from across the globe. Also, Performing Arts develop abstract reasoning necessary for academic success basically in Mathematics and Science as they improve the ability of higher order thinking skills(HOTS).
Dramatic club is a platform for the students with a flair for theatrics to bring out their most flamboyant and zestful side and harness that energy into something productive. It allows students from all classes, who are interested in reading, drama and theatre to develop a deeper sense of expression and self projection which translates to confidence and well developed interpersonal skills as the student transitions to a member of society and the workforce.
The students are invited to showcase their talent through various events such as skits, plays and nukkad nataks that challenge individuals to bring out their most expressive sides. Students who are part of the Dramatic Club perform on various events and occasions to showcase their talent and share their joy and talent with the rest of the school.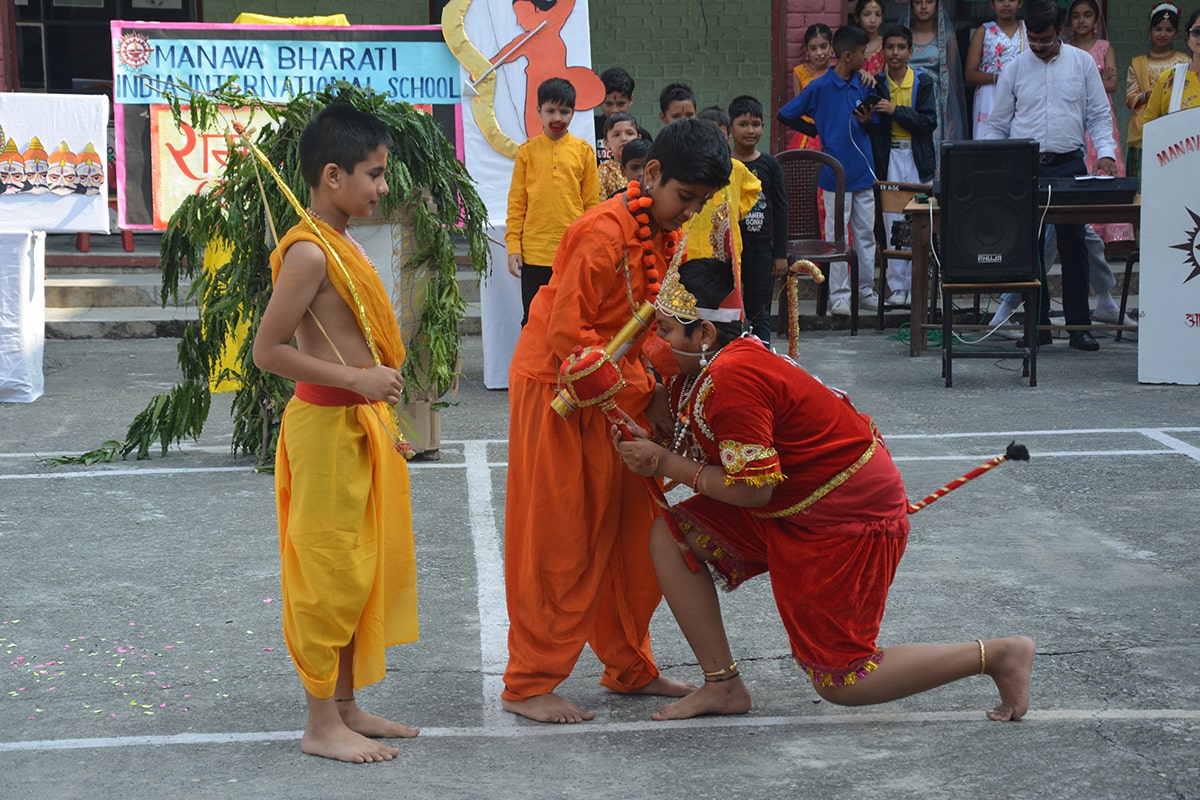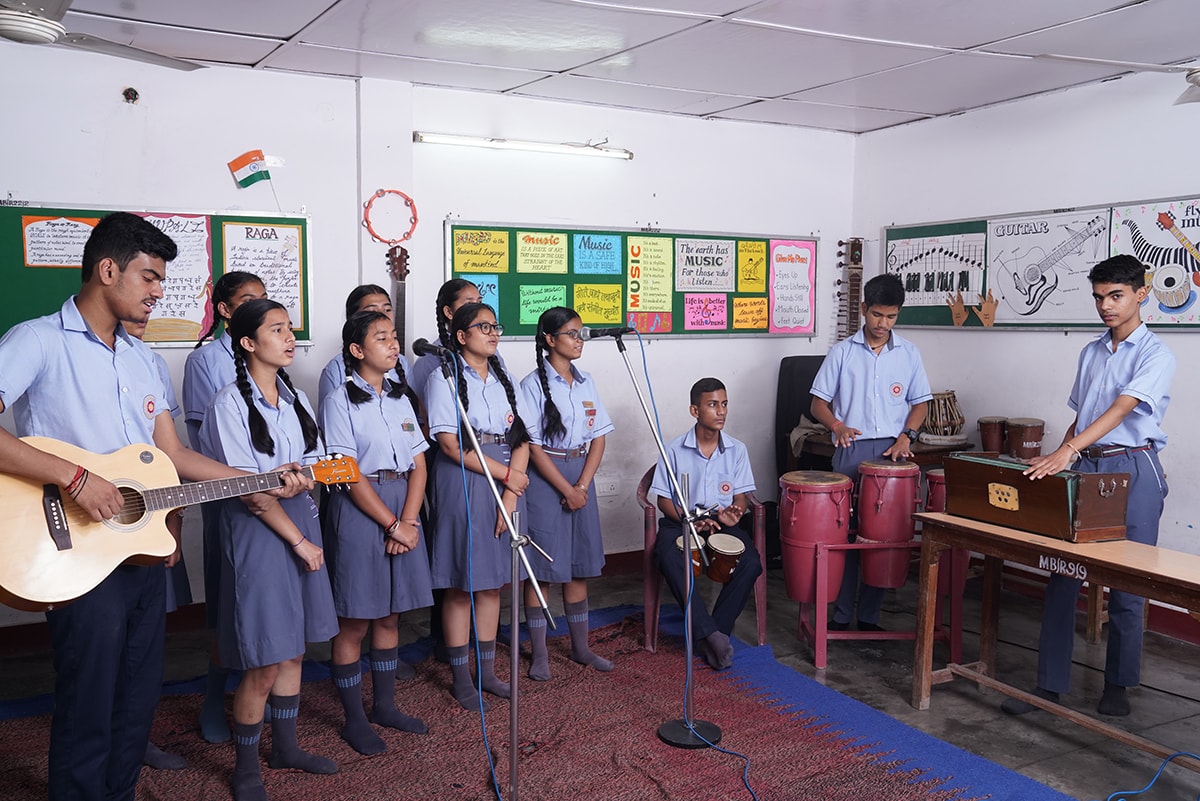 HARMONY (INSTRUMENTAL MUSIC CLUB)
Music is said to be a raw representation of the human soul. Here at school there is a significant emphasis given to the art of creating pleasant music and composing sounds through various instruments.
Children are encouraged to pick up an instrument and hone their skills if they show an inclination towards them with the help of teachers and mentors.
Every now and then, the school organises competitions and events where students can show their musical talents by playing instruments of their choice or through vocal music. The school provides a comfortable space for students to test themselves and their abilities to find out the extent of their talents.
Dance club is one way that keeps students both happy and focused – it helps them stay healthy in a fun way. Dance club also has helped the students from feeling homesick during the pandemic. Through Folk Dance Club, teachers pass a cultural spirit to the students.
Dances are taught in different ways such as text documentation, videos, and graphical notation. These actions include recordings, digitization, and reconstruction of folk dances.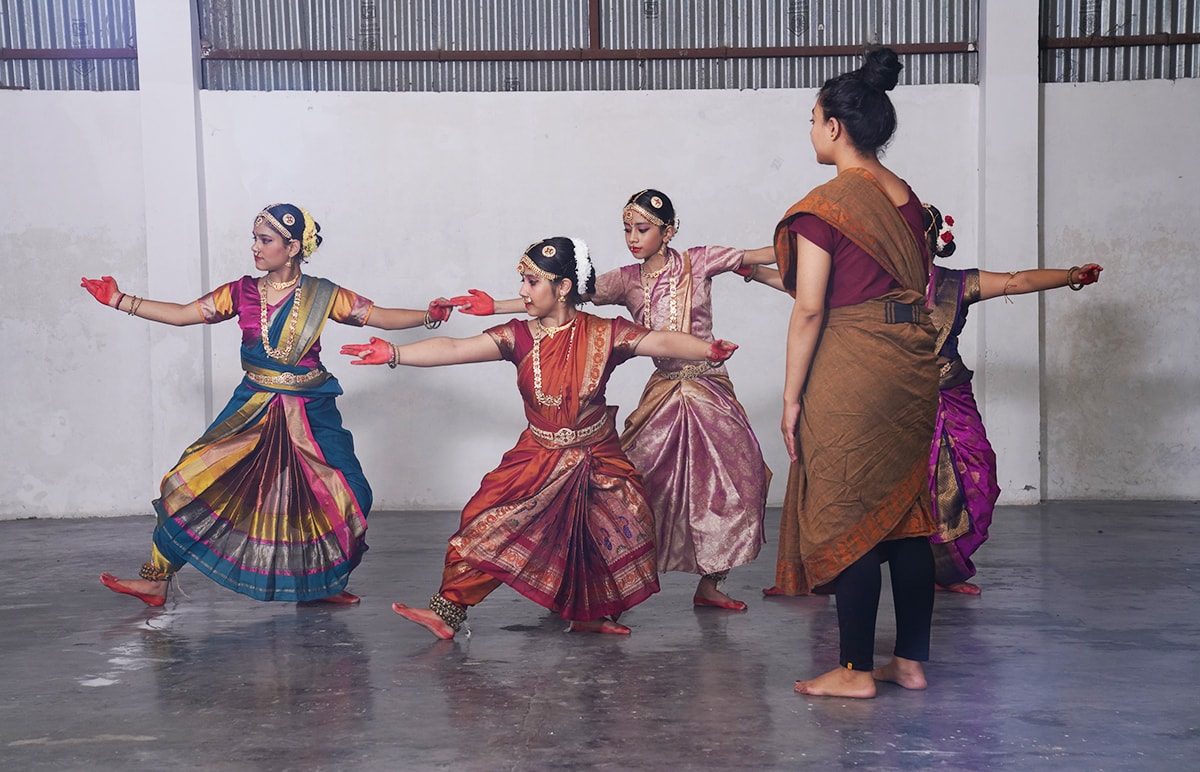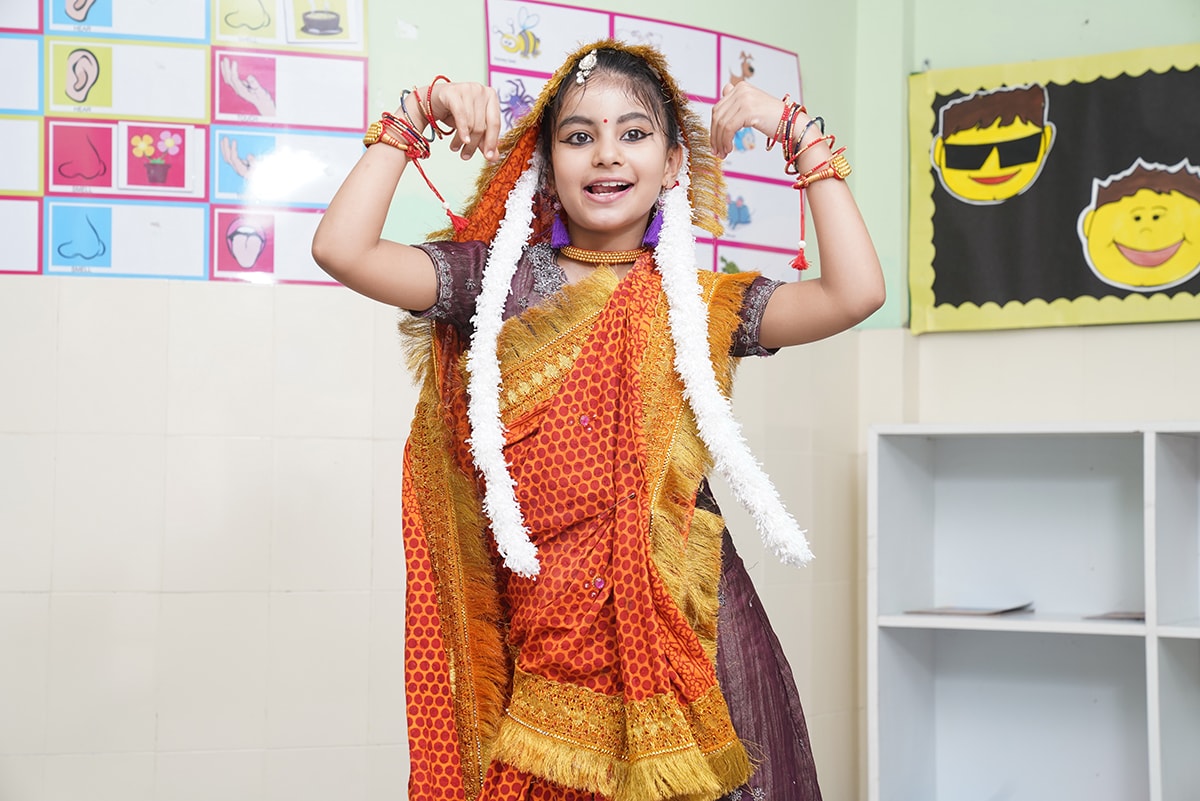 Our country is blessed by a variety of different cultures and people with their own unique traditions and practises that provide a rich and deep cultural foundation for our nation. One of the most beautiful ways cultures manifest themselves is through traditional music and dance which help provide a local identity and link to history.
Folk dance provides a sense of belonging within cultures and an opportunity to make ourselves familiar with new experiences through rhythmic harmony.
The club does not focus exclusively on dance but on creating a platform for students to learn cooperation and enjoy themselves through their teamwork.
Dance is one such motion that needs no reason to be performed. It is an amalgamation of emotions which is conveyed through performer's expressions and every limb and part of the body. Bharatanatyam is one of the classical dance forms in India, holding a preeminent position which not only provides spiritual satisfaction to the performer but also gives aesthetic experiences to the audience.
If we break BHARATANATYAM we get (BHA which means – Bhava + RA means – Raga + TA means – Tala + NATAYAM means – Dance).
So it's a dance piece which involves bhava, raga, tala and dance. It is the classical dance form of Tamil Naidu. It feels good to see how science and technology which have made life easy practically in every respect have benefitted the performing arts too.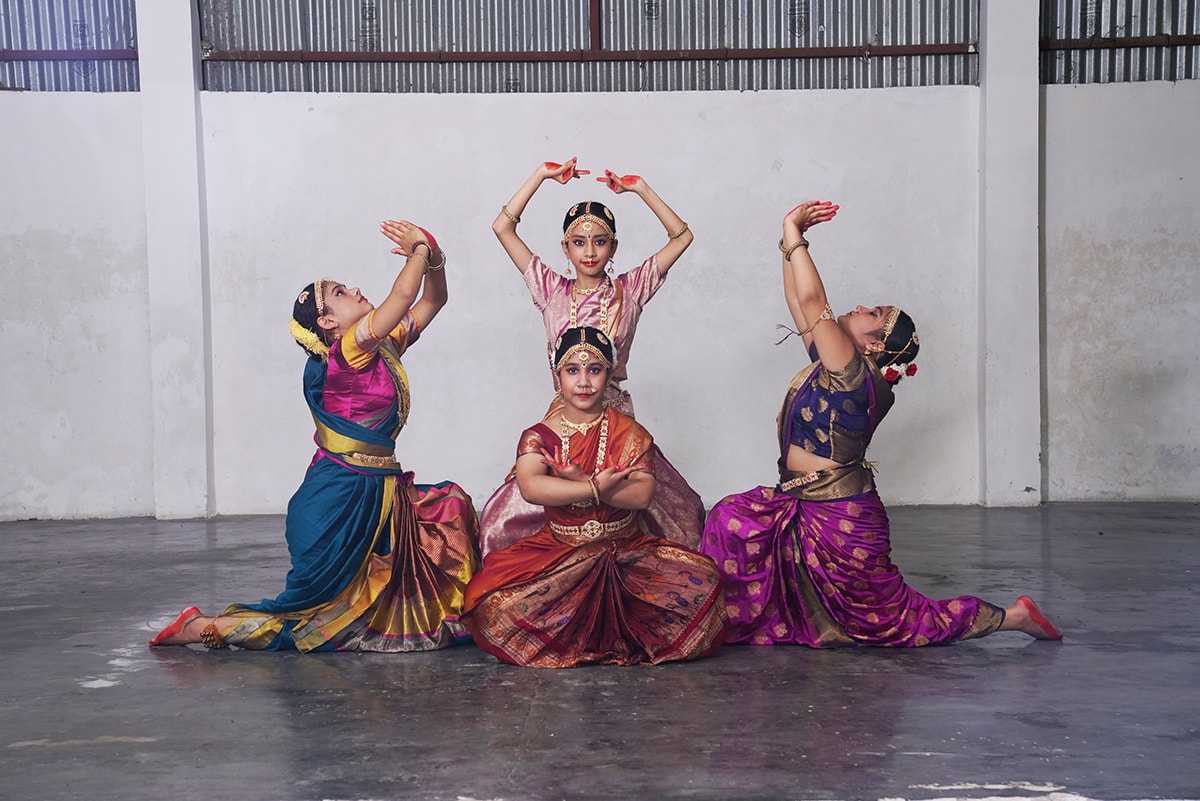 The dancer does not have to dance on the stone floor any longer since now the stages are provided with smooth wooden floor, sound system is there and through this development it becomes easier for schools to give opportunities to students to learn and develop new art which not only develops their overall personality but also makes them aware about their cultural heritage and the roots they belong to. Our school (Manava Bharati India International School) has opened Bharatanatyam club through which students are getting an opportunity to enrich themselves and learn their cultural art. What is more interesting and surprising is that students are learning this art form with full enthusiasm and passion which is making this club worthwhile.