The leadership programme at Manava Bharati empowers students to take up responsibilities as future citizens of India.
The Student Council functions as a bridge between the school management and the students.
The members of the Student Council act as role models for the other students. The dynamic members of Student Council actively participate in conducting all school activities and help to inculcate discipline among their fellow students. The Student Council acts as a fair and impartial body of students that acts through collaboration and teamwork, shouldering responsibilities that are being assigned to them. This enables them to take up challenges and prove their mettle.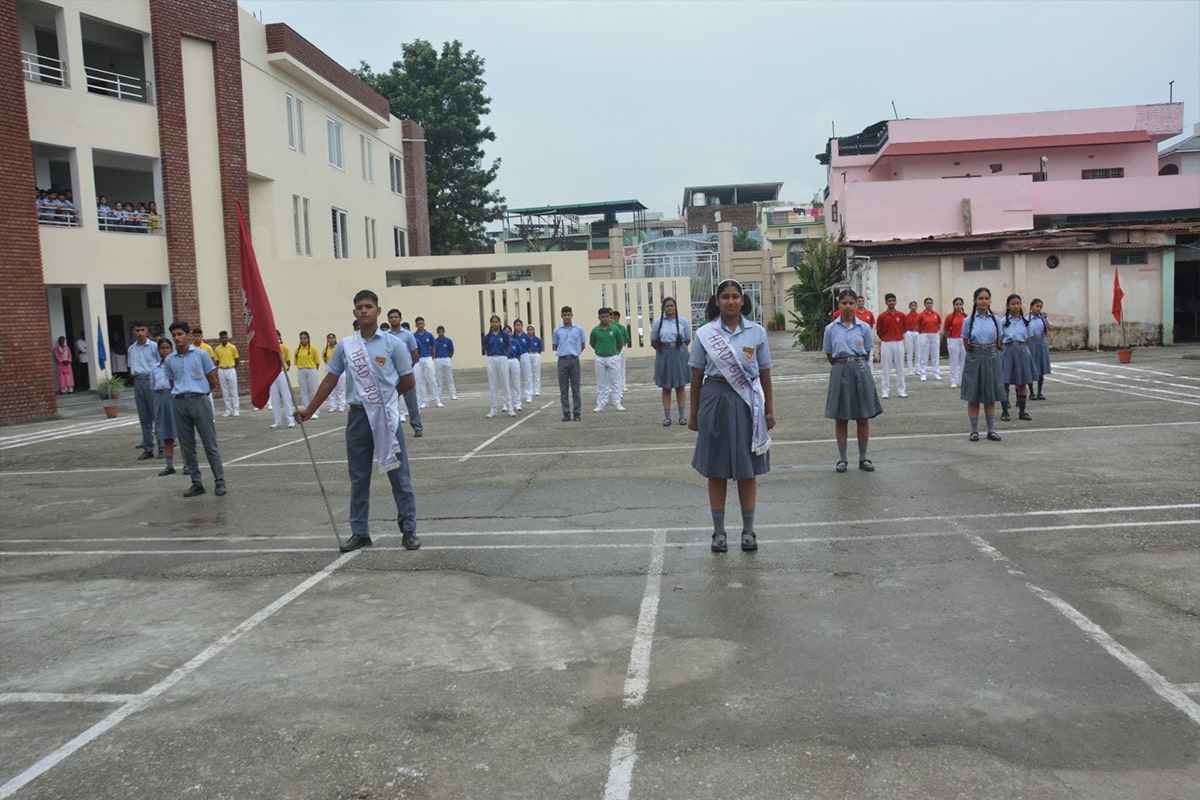 Student Council For The Session 2021-22
| S.No | Name of the Designation | Name of the Student | Class | House |
| --- | --- | --- | --- | --- |
| 1. | Head Girl | Vani Wilson | XII PCM | PANCHSHILLA |
| 2. | Head Boy | Varun Bisht | XII PCM | TAKSHILLA |
| 3. | Sports Captain (Girl) | Bhoomika Rawat | XII PCB | NALANDA |
| 4. | Sports Captain (Boy) | Royal Singh | XII COMM | TAKSHILLA |
| 5. | Editorial Incharge (Girl) | Shreya Bhatt | XII PCM | TAKSHILLA |
| 6. | Editorial Incharge (Girl) |  Pragya Tiwari | XII PCB | TAKSHILLA |
| 7. | Cultural Incharge (Girl) | Sneha Panwar | XII ARTS | VIKRAMSHILLA |
| 8. | Cultural Incharge (Boy) | Rishabh Tripathi | XII ARTS | NALANDA |
| 9. | Academic Prefect (Girl) | Siksha Uniyal | XII PCB | PANCHSHILLA |
| 10. | Academic Prefect (Girl) |  Nandini Gupta | XII ARTS | VIKRAMSHILLA |
| 11. | Academic Prefect (Boy) | Dhruv Gupta | XII COMM | PANCHSHILLA |
| 12. | Academic Prefect (Boy) |  Arpit Bagyal | XII ARTS | TAKSHILLA |
| 13. | Discipline Incharge (Girl) | Jaya Bisht | XII PCB | TAKSHILLA |
| 14. | Discipline Incharge (Girl) |  Sneha Sharma | XII PCM | TAKSHILLA |
| 15. | Discipline Incharge (Boy) | Harshit Kandpal | XII PCB | VIKRAMSHILLA |
| 16. | Discipline Incharge (Boy) |  Rishabh | XII COMM | NALANDA |
| S.No | Designation | Name of the Student | Class |
| --- | --- | --- | --- |
| 1. | House Captain (Girl) | Yamini Kandpal, Ananya Nautiyal | XII |
| 2. | House Captain (Boy) | Priyanshu Raturi, Rishabh Rawat | XII |
| 3. | House Vice Captain (Girl) | Anupama Mamgain | XII |
| 4. | House Vice Captain (Boy) | Ankur Gandhi | XII |
| 5. | Prefect (Girl) | Kanika Narula | XI |
| 6. | Prefect (Boy) | Arun Patel | XI |
| S.No | Designation | Name of the Student | Class |
| --- | --- | --- | --- |
| 1. | House Captain (Girl) | Ayukta Prasad Pal, Swastika Negi | XII |
| 2. | House Captain (Boy) | Anirudh Nautiyal, Yuvraj Verma | XII |
| 3. | House Vice Captain (Girl) | Prachi Rawat | XII |
| 4. | House Vice Captain (Boy) | Karan Pratap Singh | XII |
| 5. | Prefect (Girl) | Ilma Khan | XI |
| 6. | Prefect (Boy) | Ishaan Joshi | XI |
| S.No | Designation | Name of the Student | Class |
| --- | --- | --- | --- |
| 1. | House Captain (Girl) | Viramya Mishra, Ankita Jugran | XII |
| 2. | House Captain (Boy) | Dikshant Chauhan, Krish Gusain | XII |
| 3. | House Vice Captain (Girl) | Anubha Sagar | XII |
| 4. | House Vice Captain (Boy) | Pranjal Gupta | XII |
| 5. | Prefect (Girl) | Kritika Dangwal | XI |
| 6. | Prefect (Boy) | Daksh Singh | XI |
| S.No | Designation | Name of the Student | Class |
| --- | --- | --- | --- |
| 1. | House Captain (Girl) | Isha Thakur, Sakshi Rana | XII |
| 2. | House Captain (Boy) | Shail Bisht, Suraj Singh Gusain | XII |
| 3. | House Vice Captain (Girl) | Kaushiki Kukreti | XII |
| 4. | House Vice Captain (Boy) | Ayush Pandit | XII |
| 5. | Prefect (Girl) | Tanvi Chauhan | XI |
| 6. | Prefect (Boy) | Avishek Patwal | XI |